Microblading is a wonderful way to fix your brows problems, but it is really important to chose an experienced professional for the service.
Microblading is a form of cosmetic tattoo that gives you the effect of fuller shaped brows. It has lately been the most popular form of semi-permanent makeup, which is obvious since it gives some beautiful results. The procedure is considered relatively safe, however when you are dealing with some long lasting results – there is a chance of you not being satisfied with the outcome. So if you are planning to get your brows microbladed – here are a few things to consider. This article lists down every way in which the procedure can go wrong, what steps you can take if it does and the precautions to take to avoid any mishap in the first place.
What do we call an Unsatisfactory Microbladed Job?
The main reason for people to be hesitant to get microblading is the fear of a bad job. So what can we consider as a bad microbladed brow? Well – uneven brows, thick strokes, asymmetric arches, colour blocks rather than the normal hair strokes, pigment shade chosen wrongly, etc. Apart from these even the depth in which the pigment is put might be an issue. If its too deep than the colour might turn grey or blue, whereas if it is not too deep then the colour might not show up. All of this can lead to a unsatisfied looking brow.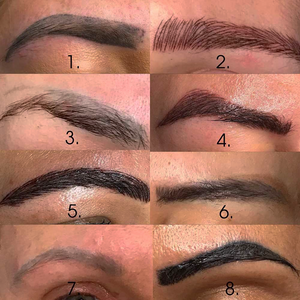 How can you avoid this?
Research – Before you pick an artist, make sure to see some of their pictures & check if they are certified. Also see if they have enough years of experience – anything more than 2 years with ample amount of clients pictures is good.
Training – know where your artist is certified from. If they are self taught or have been trained under an academy.
See pictures – Ask your artist to also show you pictures of the brows once it is healed, you will be able to see the colour and strokes better after it has healed. Once you have shortlisted a couple of artists – go for a consultation first.
Consultation – the artist will ask your expectations & draw out your brows according to your desired shape. A good experienced artist will always measure your brows and give you a proper symmetric shape before starting the procedure.
Styles of brow tattoo – Know the different styles of brow tattooing they can do – 6D strokes, ombre, combination of both, misty, powdered etc.
Hygiene – Make sure the needles used are new, the studio is clean and the equipments used are in a good condition.
Why choosing a professional artist is important?
Why do bad brows jobs happen?
The main issue in the permanent makeup industry is the lack of laws that state who can perform the service. There are a number of self taught artists who have not even gone through any basic training but are providing the service. They usually provide the treatments at much lower prices because of which a lot of people go to them.
Another issue can be academies that teach at a very low cost. You will find certified artists but the training will not have much quality to it. Therefore when it comes to semi-permanent makeup – money should always be the last factor you consider.
How to fix a bad brow treatment?
Makeup: The but obvious option, if the brows seem asymmetric they can be drawn up with a brow pencil to hide any imperfection.
Laser removal: If you absolutely want to remove it then you can opt for the tattoo removal. This however can cause minor pain and discomfort and will require a couple of sessions.
Get your touch from another artist: Any shape changes or difference in colour can be handled during the touch up session. Choose an experienced artist and get the changes fixed from them.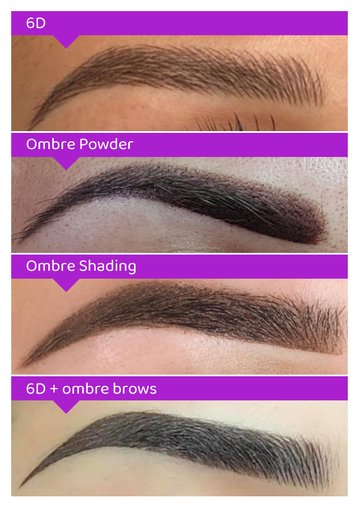 Is Microblading worth all the trouble?
Brow tattoo gives some beautiful results. It lifts your face completely, adds confidence and increases self-esteem. Like every other cosmetic treatment – be sure of the artist you choose, you need to be aware of who you trust with your brows. The treatment will definitely give you fuller, shaped brows, so as long as you have done your research – go for it!
For more details on microblading, Click Here.
Follow our Instagram page for more pictures.