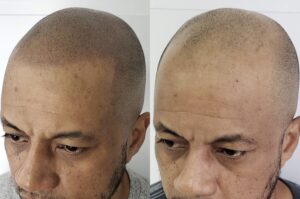 So, we have all heard about the term 'microblading' for the brows, did you know there was something for your scalp too? Well, now you do. The treatment known as scalp micro-pigmentation gives you the effect of a fuller scalp.
How are both of them different?
Microblading and Scalp Micropigmentation (SMP) both come under semi-permanent makeup and work on the epidermis of your skin. While microblading uses a manual method to add pigments, SMP uses a machine for long lasting and natural looking results.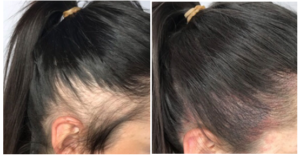 How does this work? And who is this for?
SMP is done mainly to create an effect of a fuller scalp. This does not focus on creating hair like strokes as done in microblading, the goal here is to layer in dots with a faded out natural look to create a shadow like effect on your scalp. 
These dots look like natural hair follicles that blend into your skin complexion. The process is widely used on anyone who experiences any form of hair loss. Be it alopecia, cancer, bald spots, hair thinning – anything that needs coverage.
How painful is the process?
This basically depends on how sensitive your skin is and how strong is your tolerance level. 
However, before starting the aesthetician will apply a numbing lotion to your scalp for a more smooth experience. We have a thicker skin on the scalp area hence you do not feel the process as much as you would in other areas of the body. 
Who should avoid this?
People will psoriasis or scalp acne or keloids.
Give it a month post any PRP treatment done.
Give it 6 months post any hair transplant.
Active cancer patients, once cured give it 2 months.
Any blood or skin healing disease 
Pregnancy, give it 8 months post breast feeding. 
Active dandruff.
Requires a 2 weeks gap post any hair treatment done (colour, Keratine, straightening etc..)
How long does this last? How much does this cost?
Micropigmentation is a form of semi-permanent tattoo, hence lasts for about 4-6 years. The area naturally fades over time as your skin naturally exfoliates. The colour will lighten over time, it'll ONLY change if the pigment used is incorrect. 
The prices varies – generally starts at 21000 per area, this again will vary as per your skin type and the area needed to be covered. 
What is the after care? How many sessions required?
SMP has generally 2-3 sessions with a gap of a few weeks. This is needed to create a gradient effect to your scalp and give it a natural look. Each session takes about 2 hours and might take more if the entire scalp needs to be treated. 
SMP has very basic after care:
No touching, rubbing or washing hair for 4 days post the treatment. 
No intense workouts, steam, sauna, sun bath for 6 days.
Do not use any harsh shampoos, try sulphate free hair care. 
Avoid direct exposure to UV rays for a couple of weeks, wear a hat!
What are the side effects?
SMP, per se, has no side effects if done by a professional. You will see your scalp to be a little red post the treatment but that lightens in a day or 2. 
If done unprofessionally, the colour can change overtime. Make sure to opt for a certified professional before getting the treatment done. This does not go too deep as to hamper with your natural hair growth, hence will not increase or decrease your natural growth. 
How do I book in for a consultation?
Ah that is easy! For a consultation with Anjali Sanghvi – use the link below and book yourself in right away.