Get A Classy Look with Anjali
What is microblading all about?
There are various techniques available to perfectly style your brows. But one technique that is hugely popular around the world is Microblading. It has even become a rage among top Hollywood celebrities from Helen Mirren to Mila Kunis and Serena Williams, microblading has gifted perfect eyebrows to many. Microblading is a semi-permanent tattoo technique that involves the implantation of a semi-permanent pigment into the skin. To create the natural effect this technique uses several tiny needles to place the special pigments under the top layer of your skin.
The process begins with a free consultation. It's important to discuss the requirements and expectations so as to achieve the desired results. A consultation is a key to fully understand the Microblading procedure. 
Consultation gives us an idea of what you want and contributes to 90% of the procedure. Anjali asks you to show us pictures of what you are looking for or how you usually draw out your brows and help you out with the best brows suitable to your face type.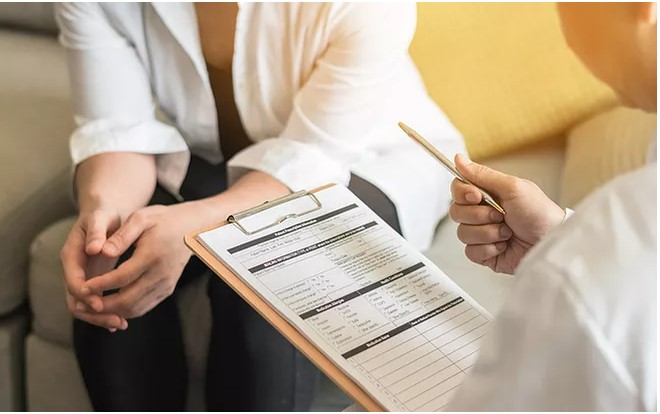 Step 2 : Designing the shape & colour
Graceful eyebrows enhance your beauty. That gracefulness comes with the right shape. Anjali carefully studies your face & precisely designs the shape that perfectly aligns with the symmetry of your face. She uses a pencil first so the shape can be adjusted as per your desire before the procedure begins.
Once you finalize the shape, the best color that is light and natural is selected mutually. Anjali tries her best to match the client's natural eyebrow color and style.
The colour and shape has now been finalised – we move to the numbing process.
To ensure a smooth beginning a topical numbing cream is applied to make your skin comfortable. The lotion is applied on the outline and covered with a wrap. Twenty minutes after numbing, the microblading procedure begins. And believe me! Anjali surprises you with her magic. She smoothly transplants the pigment with the utmost comfort: the results will leave you shocked.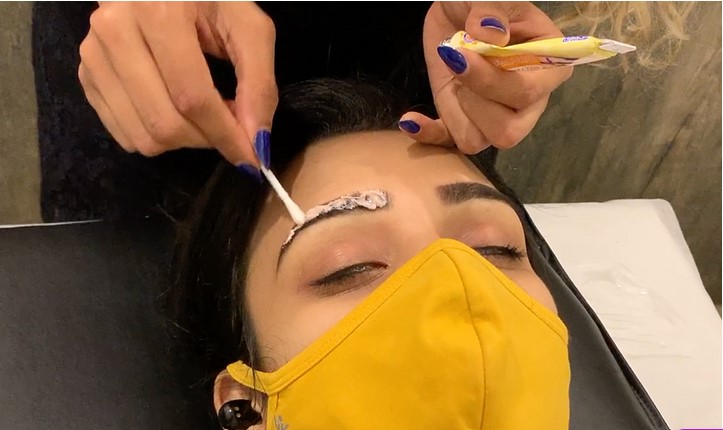 Step 4 : Microblading the brows
Once everything is finalised and the numbing is complete – Anjali moves to microblading your brows. 
A sterile new needle is removed in front of you, colours are mixed and the procedure begins. The pigment is implanted into your skin to give the desired effect. Numbing cream is applied repeatedly throughout the process to give you the maximum comfort. Each stroke is a superficial line in the skin where the colour pigment seeps in and settles.
Step 5 : Reveal & Touch up
At this point, the microblading procedure is complete. The curiosity of the customer ends here as the delightful eyebrows are revealed. Anjali makes sure the customer is happy & if any adjustments are needed before giving the final touches. 
The brows become 50-60% lighter in about 2 weeks revealing the final colour. Touch-ups are therefore necessary after the initial procedure of microblading. As microblading is a multisession process; touch-ups are done within 40 days to address the concerns customers may face during the healing. Touch-up involves polishing the areas that may have faded or simply got thicker or darker in the first time! 
How long does It last?Is it a safe procedure?
Microblading will require a refresh every 18-24 months to give it a more natural flawless look. This however does depend on a number of factors – skin type, method of microblading etc. Swimming, body tanning, excessive use of any chemicals on the face will also reduce its longevity. 
The procedure is safe, it does however require a hygienic , safe studio and you need to make sure a new needle is used for your treatment. It is to be avoided by anyone who has diabetes, is pregnant, history with epilepsy, individuals with heart problems or using pace makers, anyone who has gone through organ transplant, prone to keloids or allergic to metal/anaesthetic and anyone with a skin condition near the brows. 
Microblading does not have any side effects, however if your skin is too sensitive then you might have slight redness or swelling which will go down in 2-4 hours.
What makes Anjali's Microblading skills different from any other artists in India?
Well, to start with she is one of the only certified cosmetic tattooist in India who can do various kinds of brow tattoo 6D, ombre, misty brows, powdered & 6D + Ombre.
She has 5 odd years of experience internationally & nationally combined. She has worked with various skin types and many different brow shapes. She is also a certified makeup artist with 8 years of experience and hence understands face structures well to design the perfect brows for you.